JointMaster Pro 2 G3i Digital Joint Filler Pump

International custom built types 110V and 220V available.

Two component, commercial Joint Filler Pump System for dispensing of SealBoss QuickFix 6500 and other compatible polyurea, polyurethane & epoxy products. Premium components and a rugged construction make this machine a prime choice.

Digital, preprogrammed control unit for superior product application at even speeds. The applicator mounted speed control knob offers a wide variety of dispensing volumes to suit your product and application needs. Large volume reprogramming possible for roadway repair needs.
For Professional Use
Made In U.S.A.

Advanced Design Features

- Two Component System
- 1:1 and 2:1 Ratios Avalable
- Pumps Many Epoxies, Polyurethanes & Polyureas
- Very Affordable And Reliable
- Rugged Construction And Easy To Use
- Adjustable Volume Dispenser
- Extra Lightweight Aluminum Dispenser
- Moving Parts Fully Enclosed For Safety
- Stainless Steel Tanks
- Gear Driven For Easy Ratio Changes
- Compact And Lightweight Unit
- Unit Mounted On 'EZ-Ride' Casters
- Complete Set With Hoses And Applicator
- Easy To Clean
- Heater Bands Option
- Battery / Inverter Use Option

Specifications:

Weight: Basic Pump 205 lbs. dry. Extra equipment not included.
Height: 44" (5 gal tanks) , 47" (6 gal tanks)
Width: 25"
Length: 29.5"
Motor: 1/2 [hp], ~200 [lb-in] , AC, Gear
Torque: approx. 200 Lbs.
Pumps: Internal rotary gear pumps
Tanks: 5 gal/ 6 gal, 14 gauge 304 stainless steel
Power: 110 V 5 A, 220 V version available
Hoses: 1/2" x 14.5' braided, protective sleeve
Wheels: 6" , swivel wheels with brakes
Control: Extended lightweight handle, dual port manifold, digital speed control. Low voltage control line to applicator, programmable
Viscosity: approx. 50 – 4000 cps, depending on material
Flow Rate: approx. 0.1 to >1 gallon per minute
Ratios: 1:1 by volume ratio standard, other ratios available

Options:

- Tank Options
- Applicator Valve and Zerk (Nipple) Options
- Heater Bands
- Inverter & Charger Kit For Battery Operation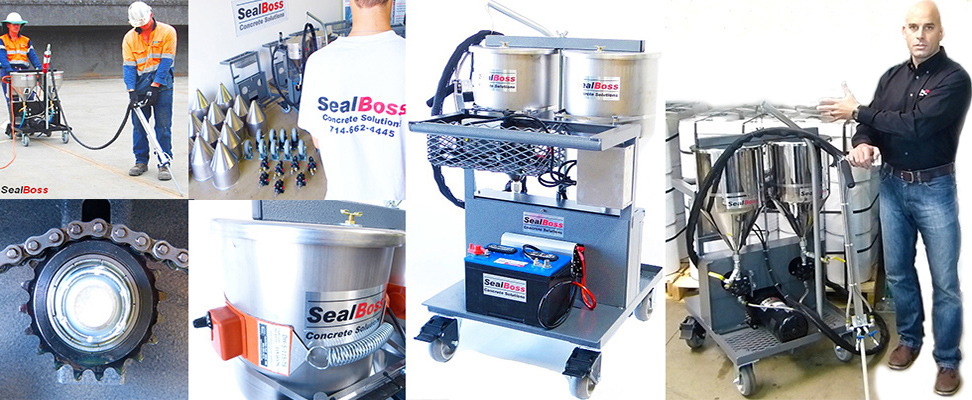 Made Of Highest Quality Components
Stainless Steel Tanks
Steel Braided Hoses
Heavy Duty Pump Units
Electronic Variable Speed Drive
Comfort Easy Roll Casters With Two Locks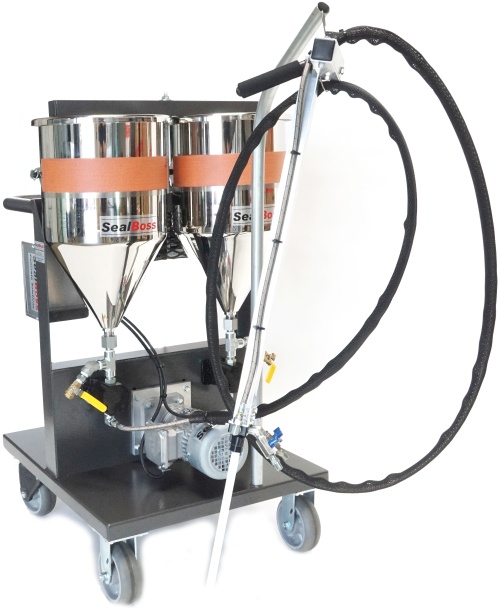 Optional Cordless Free Operation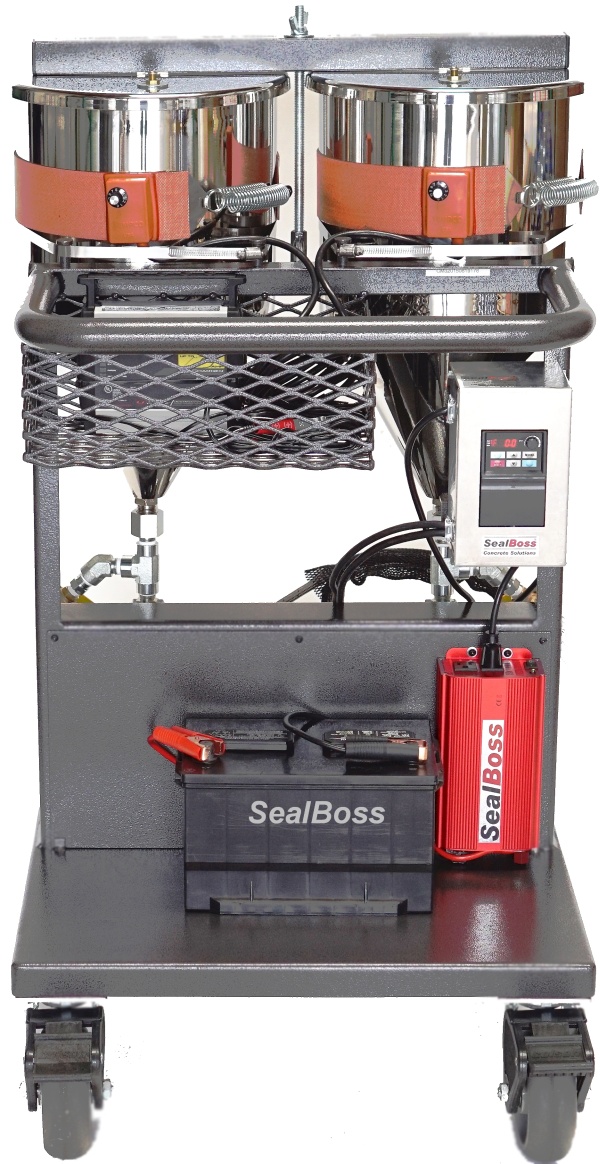 Heater Band Option, Large Tank Option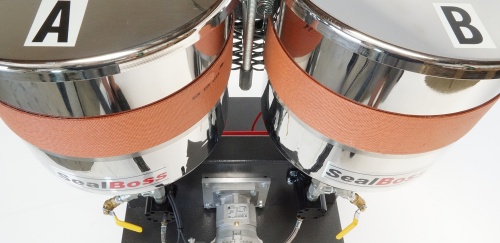 Applicator And Control Unit

On-Off Switch, Motor RPM Control, Manifold
Grease Nipple & Purge Valves Optional
Testimonials

"Wanted to get back to you on the machine.
Works like a charm.
Thanks Again, Jay Kangas "

"She is absolutely beautiful! Very well done machine.
I have pumped several thousand feet through already. Stephen Schmid"